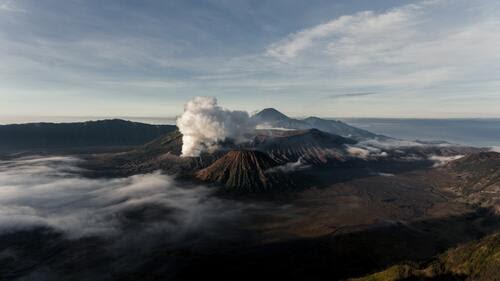 Mount Semeru, the highest mountain of Java island
October 26, 2020
How to properly pack a hiking backpack?
October 26, 2020
For those of you who have never climbed a mountain, Mount Prau can be a recommendation for beginner climbers.
Located in Dieng, Central Java, Mount Prau has been reopened to the public since August 2020.
This is the right moment for you to greet the sun.
 This mountain with the nickname of the Peak of a Thousand Hills has interesting photo spots at every stop and peak.
So before climbing it, let's see interesting facts about Mount Prau.
1.     Has five climbing routes 
Mount Prau has several alternative paths that you can choose from, from challenging to gentle slopes.
The routes are Wates, Dieng, Patakbanteng, Kalilembu, Dwarawati, and Igirmranak.
Each path has its own distance and challenges, you know, Red and White Buddy.
The Wates route has a hiking trail of about 4.7 kilometers.
Uniquely, you can find a spring near post three that can be drunk directly.
Also there is a motorcycle taxi facility that takes you from base camp to post one for only Rp. 20 thousand.
The Kalilembu track is quite gentle, easier, and has a more beautiful view.
The location of the basecamp is not far from the Patakbanteng basecamp, which is about 100 meters.
To get to the camp area, you will pass three climbing posts and pass Serayu River.
The Dieng Line is located in Dieng Kulon Village and is suitable as a tourist spot.
The reason is, this base camp is close to Arjuna Temple, Color Lake, Pengilon Lake, and many more.
The track is quite long but it doesn't feel tired because of the beautiful scenery.
Unfortunately, there are no springs when climbing via Dieng.
The Patakbanteng route is a path that is quite challenging and is often chosen by climbers.
It only took two hours to reach the top and the camp area.
The last one is via Igirmranak, a route that has only been opened since 2015.
This basecamp has many advantages ranging from short distances to the top to natural views along the trail.
There are three posts that you will pass to get to the top.
2. Most of the climbers only reach the camping ground
Usually, climbers climb mountains to get to the highest peak.
Now on Mount Prau, usually the climbers only reach the camping ground.
The reason is because the scenery on the camping ground alone is very epic and busy as photo spots.
You can already see "the country above the clouds" and the very small housing of the residents from the camping ground.
3. There are five mountains that you can see
On the Wates route, when you arrive at Bukit Rindu, you can see several mountains, such as Mount Sindoro, Mount Sumbing, Mount Merapi, Mount Merbabu, and Mount Lawu.
Everything will be beautiful when there is no fog and it is sunny.
Uniquely, the climbers are mostly more busy taking photos of Mount Sindoro and Sumbing rather than taking photos of Mount Prau.
4. There is a small voice
Well, Red and White Buddy, for those of you who are sleeping in a tent or when you are climbing you hear a small voice, it is the sound from the tower around Mount Prau.
Usually, the sound will be heard at night and not windy.
At first, you will definitely be confused because the sound is exactly like the sound of the wind whistling.
So, you don't need to be afraid!
5. Edelweiss flowers
During the hike, you will definitely encounter so many edelewiess flowers along the track.
This beautiful flower makes you even more excited to reach the top, especially if you are with your partner.
Even so, you have to keep the various plants there.
Remember, we must respect each other's fellow creatures, be it animals or plants, especially when you are climbing a mountain.