Top Ten Cycling Quotes
June 21, 2022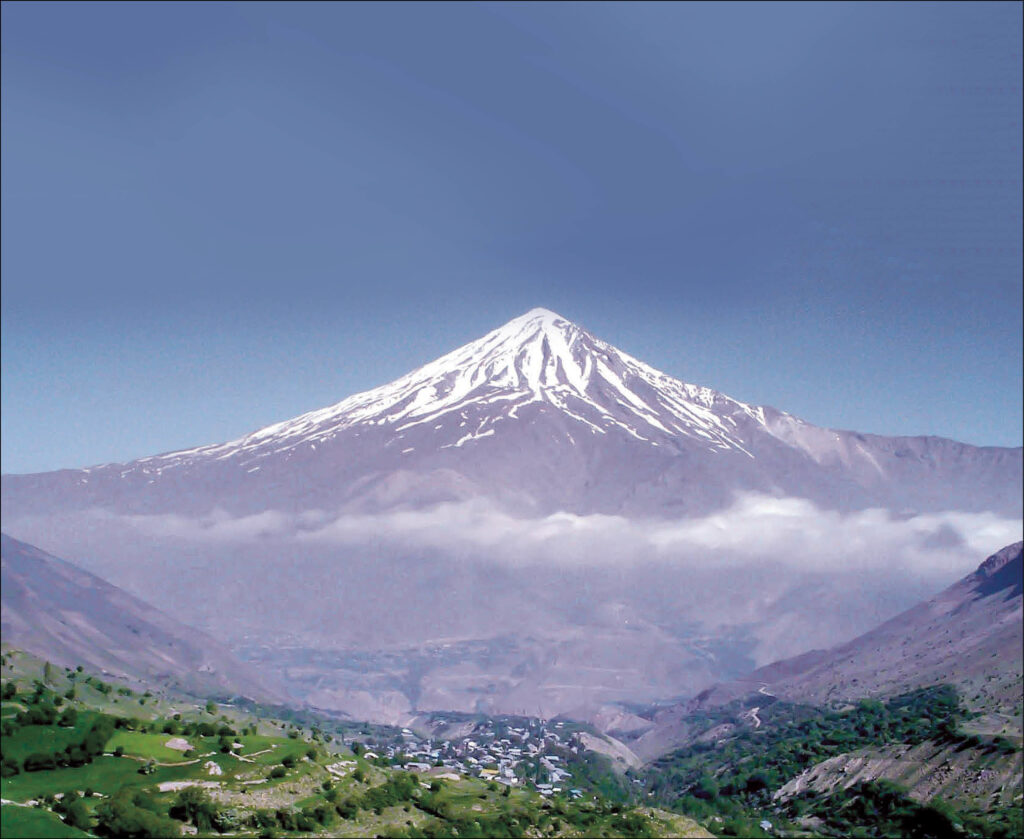 A Brief Introduction to Climbing Mt. Damavand
August 2, 2022
Cycling

is one of the most popular sports in

Iran

.
There are two most popular types of bicycles, namely racing bikes and mountain bikes.
There are various types of bicycles. At least, there are two most popular types of bicycles, namely
road bikes

and

mountain bikes (MTB).
Racing bikes

are designed to ride on paved roads. This bike has its own characteristics, namely smooth tires to reduce friction with the road, very light weight, and aerodynamic handlebars. So that it can go fast on a straight track but also quickly climbs.
While
mountain bikes

are designed to be used in tough terrain such as mountain trails, single lanes, fire roads, and other unpaved surfaces. Mountain biking terrain generally has rocks, roots, loose soil, and steep inclines.
In fact,
mountain bikes

have some similarities to other bikes, but incorporate features designed to increase durability and performance on rough terrain, making them heavier, more complex, and less efficient on smooth road surfaces.
These bikes typically have suspension forks, bulky off-road tires, more durable wheels, more powerful brakes, straight and extra wide handlebars for increased balance and comfort on rough or extreme terrain.
By Type
Racing bikes

have at least four types. Starting from the type of

touring, hybrid bicycle, utility bicycle, and vintage.
Touring type

bikes are used for exploring. This type of bicycle is strong, comfortable, and capable of carrying heavy loads. While the

hybrid bicycle

is a type that is designed for recreation and other things. Although designed to run on asphalt, this type of bike can also be used on non-asphalt roads.
A bicycle with a
utility bicycle type

is designed to have many functions such as shopping, or traveling around the city. Meanwhile,

vintage bicycles

are known as classic road bikes with frames that usually still use iron and are mostly for collection.
Mountain bikes can be divided into four broad categories based on their suspension configuration. The first is the
rigid

, which is a mountain bike with big, protruding tires and straight handlebars, but no front or rear suspension.
Then the
hard tail

, which is a mountain bike equipped with suspension forks for the front wheels, but the frame is stiff. The third is the

soft tail

, one of the newest types of mountain bikes with an axle in the frame but with rear suspension. The flexibility of the frame will absorb some of the vibrations like a cross country bike.
Fourth is the type of f
ull suspension mountain bike

(double suspension). Such mountain bikes are equipped with front and rear suspension. The front suspension is usually a telescopic fork similar to a motorcycle, and the rear suspension utilizes mechanical linkages with components to absorb shocks.
Bike Frame
The bicycle frame is the main component of the bicycle, on which the wheels and other components are attached. The most common bicycle frame designs are based on safety.
Road bikes

have a different angle and tube shape from mountain bikes, with a more bent position and maximizing leg muscles. Each type of bicycle frame has its own character, which can be different due to the influence of the angle, length of the tube in the bicycle frame.
On modern bicycles, the frame is not only for safety and strength anymore, but also supports for maximum performance. The shape is also not fixed on the classic diamond shape, but can be varied.
The addition of a rear suspension on a mountain bike also changes the overall strategy and structure of the mountain bike frame.
The emergence of materials to make bicycle frames that are stronger and lighter (such as c
arbon bicycle frames

) also makes bicycle frame designs more flexible, they do not have to be glued to form a strong structure, but can be directed for performance, without reducing the strength of the frame.
The length and angle of each pole (tube) in a bicycle frame has its own purpose, and a good bicycle manufacturer, calculates in detail every millimeter and degree angle of the bicycle frame that will be made.
The combination of length and angle is not only for the sheer strength of the
bicycle structure

, but also for shaping the character of the bicycle. Bikes for speed, toughness, leisure, all have different frame lengths and angles. Every change in length and angle, can change the character of the bike.
Race bikes

usually have a steeper head tube and a larger offset fork to lower the trail and speed up handling. Mountain bikes, on the other hand, usually have a larger track which increases stability and is better for high-speed handling on rough terrain.
Gears and Brakes
Most mountain bikes today are made with a 1x set-up, meaning there is only one front chain ring. This reduces the chance of the chain coming off, and eliminates the need for heavy, expensive, and fussy front derailleurs.
With only one front chain ring and very steep terrain to traverse,
mountain bikes

require a large rear cassette with a wide gear range. Some cassettes are nicknamed 'dinner plates' due to their large size, which sometimes extends to the rear wheel of the 50t. Manufacturers now make mountain bikes with 11 speeds and 12 speeds.
Manufacturers now make 11-speed and 12-speed mountain bike cassettes from 10t to 50t gears and greater. Even with the 1x setting, you can achieve a variety of gears for steep single track climbs and fast descents.
There are more options when it comes to racing bike gears, including a compact, race-ready setup. Most race bikes are 2x set-ups, meaning they have two front chain rings and a front gearshift, with the classic setup being 53/39, 52/36 or 50/34. Most road bike cassettes have 11 speeds with a sprocket range of 11 to 28 teeth, although many riders opt for the larger option to help with steep inclines.
Many
racing cyclists

, especially recreational ones, use tight chain rings with smaller front chain rings and larger rear gears. This limits you to the top (at high speeds), but allows you to keep pedaling at a comfortable cadence on very steep inclines. With a compact chain ring setup, you can still pedal at 80rpm at up to nine percent.
When we start thinking about brakes, there is only one answer for mountain bikes and that is disc brakes. Big, powerful and high performance in wet conditions, disc brakes are the best for off-road driving.
Disc brakes

also allow more tire clearance, which is best for mountain bikes with wide, protruding tires. For downhill driving and extreme mountain biking, riders use larger-than-usual disc brakes, which help increase stopping power and performance as well as high speeds.
After decades of being equipped with rim brakes, most road bike manufacturers have recognized the benefits of disc brakes on racing bikes, and have begun to incorporate them into all their racing bike models.
While many were skeptical about weight, aerodynamics and safety, technology seems to have caught up with those concerns, and disc brakes are now a mainstay on road bikes.
You can still find
road bikes with rim brakes

, which are usually lighter than disc brakes but they struggle to perform well in wet weather.
There's also no modulation on the rim brakes, and it's under powered overall. Many motorists who use rim brakes choose it because of its convenience and affordable price. Most bicycle technologies are equipped with rim brakes, which are also easier to install and service than disc brakes.
Wheels and Tires
Mountain bike

tires are wider and larger than race bike tires, which makes them stronger and last longer on rough terrain. Designed to ride over rocks, roots and ruts, mountain bike wheels and tires are built for durability and grip on uneven ground.
Their tires are also puncture resistant, with puncture-protected sidewalls and a thick tread pattern.
The tread pattern on mountain bikes is thick and bulky, designed for a specific type of mountain biking. A race tire will be much different from a big mud tyre, while a downhill tire will differ from a cross country mountain bike tire.
That difference doesn't really exist in race bike tires, at least in terms of tread pattern. Race bike tires are mostly slippery, with very
little tread apart

from shallow indentations around the tires.
The best racing bicycle tires are significantly
narrower than mountain bike tires

, and are measured in millimeters rather than in inches used for mountain bike tires. You can find racing bicycle tires ranging in width from 21mm to 38mm. But it's still much narrower than the narrowest mountain bike tires, which start at about two inches.
Racing bicycle tires are also designed to run at much higher tire pressures, usually between 50 and 100psi. The larger size of the mountain bike tires makes it capable of running at lower pressures (20-35psi) which also means better performance on rough and wet terrain.
Suspension
Suspension is one of the most unique aspects of a
mountain bike

, and one you rarely find on a racing bike. There are two types of mountain bikes, which are determined by the suspension system, namely

hardtail and full suspension.
Hard-trail mountain bikes

include only the front suspension, which is usually in the fork. These systems typically have a range of 100-170mm, and are stiffer than full-suspension mountain bikes.

Hard-trail mountain bikes

are also much lighter than full-suspension bikes, which makes them ideal for cross-country and short-track mountain bike racing.
Full-suspension mountain bikes

have front and rear suspension, which improve overall comfort and handling on rough and technical terrain.
These bikes are significantly heavier and more expensive than hardtail mountain bikes, but perform much better on rough roads. Full suspension mountain bikes can range from 100-200mm, making them ideal for all types of trail biking, downhill mountain biking and racing.
Also pay attention to the
saddle (seat)

that will be used. Saddle is a bicycle component that is always in contact with the body. Everyone has different preferences due to body posture, riding style, cycling goals, and more.
For racing bicycles and mountain bikes, it is common to use a thinner, flatter, and longer mount form and is mostly combined with relatively hard materials.
Handlebar
One of the biggest differences between a race bike and a mountain bike is the
handlebars

. Road bikes have drop bars, which are sets of curved handlebars that offer three different hand positions for riding namely hood, bottom, and top.
The brake lever and gear lever are located on the hood, which is the most common hand position for road cycling. Riders use the lower hand position for descending, fast riding and racing, while the upper hand position is used for climbing and leisurely cycling.
Mountain bikes use
flat handlebars

that extend from left to right across the front of the bike. There is only one riding position on a flat mountain bike handlebar, and that is with your hands on either side of the flat. The gear and brake levers are located at the ends of each side of the bar, making them easy to reach with just your finger or thumb.
The
flat bar

is wider than the drop bar, which – along with its styling – helps increase leverage and handling in tight corners. For steep, tight single-track bends, flat bars are far superior to drop bars.
Driving Position
The difference between a racing bike position and a mountain biking position is huge. On a
race bike

, you will be stretched with a longer reach, closed hip angle, and forward leaning position.
When you ride a mountain bike, you'll sit in a much more upright position thanks to the shorter reach, less slack head tube angle, and flattened handlebars. Wide tires and suspension will make you more comfortable on rough terrain, and you won't have to worry too much about aerodynamics on slower mountain bike rides.
Endurance race bikes

have a more relaxed geometry that is less aerodynamic but more comfortable for long distances.
This is a bike designed for all-day adventure, using a more upright position to save your back and arms, while also retaining many of the same racing bike features and making it fast and fun.
Meanwhile, the use of the right jersey and bicycle pants will also help your comfort in cycling. Other safety accessories such as bicycle helmets, bicycle goggles, and bicycle lights are also required. Also prepare a bicycle hat to protect your face or head from the sun.
Don't be wrong in choosing
bicycle shoes.

Mountain bike shoes usually have strong soles for added traction on uneven roads. These shoes can be found divided into two categories, namely to be paired with clipless pedals or for flat pedals.
As for the road bike shoe, it has a stiffer sole than a mountain bike, less tread, and prominently mounted clipless pedal cleats.
For those of you who want to carry supplies while cycling,
a bicycle bag

can be the solution. There are types of backpacks, slings, or bags that can be placed on or under the saddle.

https://www.bikeperfect.com/features/bespoken-word-happy-70-mrs-queen