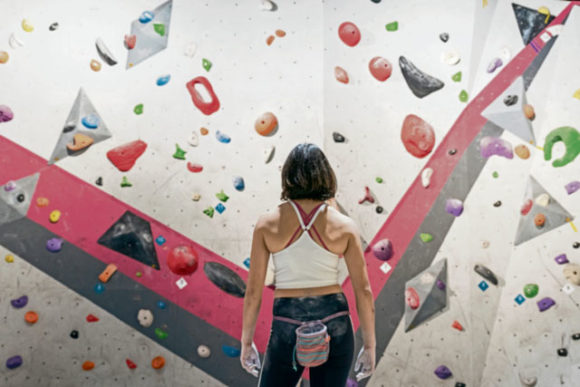 How to climb on rainy days, Tips for indoor climbing
October 13, 2020
Adam Ondra, the man in constant search of the limit
October 14, 2020
Mountain climbing is the best workout for testing physical strength and mental endurance. Few other exercises work with the same amount of muscle as climbing, and balance, flexibility and endurance, and patience are also important.
Climbing is a whole body workout designed to develop strength, balance, flexibility and aerobic fitness. Those who are professional rock climbers train outdoors.
But for beginners looking to try something new in the sport, it's best to start with an indoor training center. The clubs always have qualified instructors, equipment and different levels of difficulty of classes.
1.     Training strength and endurance 
Rock climbing is primarily about strength training. But exercising also stimulates your heart rate and burns a significant amount of calories.
On average, a 70 kg person can burn about 600 calories per hour of climbing.However, when compared to other workouts, climbing is more like interval training in that it produces shorter anaerobic bursts of power compared to cardiovascular workouts such as running or cycling, which tend to provide more stable and steady heart rate.
2. Strengthening muscles
In classic rock climbing or bouldering (that is, climbing low rock formations without a rope), all muscle groups are pumped.
Since the lower body is usually stronger than the upper body, the person will rely on the gluteal muscles, hamstrings, and calves to hold onto the wall, while the back, chest, shoulders, and arms work together to pull the body upward.
Gradually the forearms will get stronger because, unlike many other traditional workouts, it will take tremendous grip strength to get to the top of the wall.
 3. Good stretch
In addition to strengthening your muscles, you need to stretch and stretch to move from one move to the next. Climbing is a fantastic way to increase core strength, flexibility and coordination.
4. Restoring peace of mind
But the physical component of this workout is not the only health benefit. The mental health benefits are a sense of confidence, the use of problem-solving skills, patience and endurance, and the sense of accomplishment one feels when reaching the top.
This allows you to balance mental processes, fight depression and anxiety.
5. Acquisition of new social connections
Climbing meets the social needs of a person. There is an element of community in these activities, and the gym is a great place to make new friends.
The support and encouragement that a person feels from other participants stimulates a sense of satisfaction, pushes for improvement and development in this direction.
But there are also disadvantages
 Training is not just aerobic
Yes, your heart rate will skyrocket and your cardiorespiratory fitness can be improved, but if you're looking for a traditional aerobic workout that's comparable to running, cycling, or swimming, this isn't quite the right fit.
However, to get your cardio system ready for the climb, you will need to warm up with equipment, including exercise bikes and treadmills.
It takes patience and endurance Most climbers would not consider this a disadvantage, but for beginners in the sport, the time it takes to climb is sometimes seen as a disadvantage.
In 20 minutes, the climber will just warm up and start climbing, while in many types of fitness much more can be done. On average, a workout lasts up to 60-90 minutes, this duration is not suitable for everyone.
Safety is critical to training success
There is always a risk of falling or injury and therefore training should only be carried out under the supervision of professionals and on safe equipment.
 Most venues have very specific and strict rules that must be followed. For some, this is also a minus of classes. Tips for Beginners The best way to get started climbing is to head indoors and take beginner lessons.
Most of the rooms offer memberships and lessons with levels that the participant goes through as they master specific skills. The centers employ qualified instructors who will tell you about the equipment and also conduct the first classes.
Another advantage of the gym is that you don't have to buy a lot of equipment. Most have equipment that can be rented, and sometimes it is even included in the price of classes.But be sure to buy a good pair of sneakers and comfortable clothing that allows you to move freely.
For beginners in climbing, customizing workouts will help the body adapt to the exercise and give it time to master a new set of skills.
It is worth starting with one or two sessions per week, and as your body gets stronger, you might consider adding another activity or workout.
Many facilities offer free time in the gym when you can exercise on your own after completing a certain level of fitness.